Welcome back, everyone! We are open for the Fall 2021 Season.
Register now!
2021 – 2022 SCHEDULE
(click to enlarge)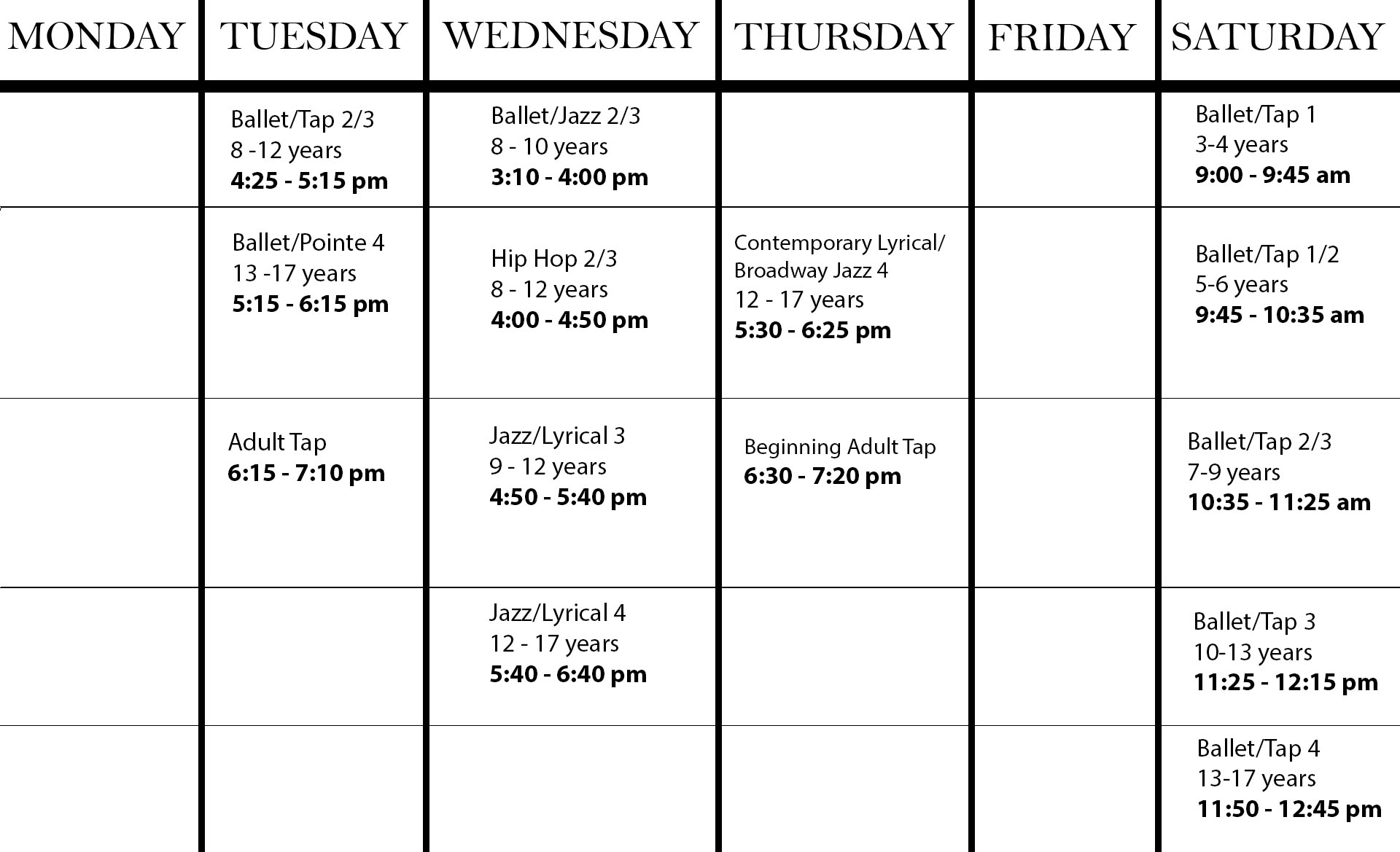 Maryse Young – Tap, Ballet
Ariana Gray – Jazz, Lyrical, Hip Hop
Casey Cavanaugh – Contemporary Lyrical, Broadway Jazz
You can register by sending an email to:
CERRITODANCEARTS@GMAIL.COM
New coronavirus policies:
Due to the coronavirus, we are asking that parents, family members, and friends not come into the teaching area. Only students will be able to come into the studio or the deck area. 
Students should come wearing their dance clothes, bring their own water bottle, use the bathroom before coming to class, and wear a mask. You may also bring a yoga mat if you wish to use it for stretches on the new deck. There will be a hand sanitizer area to use as you are entering and leaving. You may use the bathroom if needed, but we would like to limit it as much as possible. 
REGISTRATION: All students need to register at the start of their classes. There is a $10 registration fee per family that can be added to the first check. Registration can be done by an email to the studio, and then followed up by filling out the form at the studio.
TUITION:
Tuition is due at the beginning of each new session. A $10 late fee will be charged to payments that are late after the first week.
All sessions are 4 weeks worth of classes. So, all payments should stay the same for each session that you are signed up for.
You can pay for classes at the studio by check, or cash, or you can pay with Venmo.
There are no refunds for missed classes, but if you are planning on missing classes, you can pay for each class individually at $17.00 per class which is due at the time that you take the class.
The final payment for May/June is due at the same time.
$17.00 per single class or trial class.
Paying by the 4 week session per family member:
$17.00    single class
$52.00    1 class per week
$90.00    2 classes per week per student
$110.00  3 classes per week per student
$130.00  4 classes per week per student
Tuition is for 1 child. Second child may take a 10% discount.
PAYMENT SCHEDULE:
Payment schedule:
(Payment due in first week of each session)
Session 1: Aug 30 – Sept 25
Session 2: Sept 27 – Oct 23
Session 3: Oct 25 – Nov 20
Session 4: Nov 29 – Jan 8
Session 5: Jan 10 – Feb 5
Session 6: Feb 7 – March 12
Session 7: March 14 – April 16
Session 8: April 18 – May 14
Session 9: May 16 – June 11
Note: These are separate payment sessions, but classes are ongoing throughout the year.



DRESS CODE:




Dance clothes are required. Leotards, tights, and pink ballet slippers are required for all ballet classes. No tutus or fancy costumes. Jazz pants and leotards or fitted shirts are required for jazz, hip-hop, and tap classes, as well as jazz or tap shoes. Boys may wear shorts or sweatpants. No jeans or street clothes are allowed. Hair must be securely tied back.
MISSED CLASSES:




There are no refunds for missed classes. A make-up class may be taken in a class other than the student's regular class and must be made up within 4 weeks of the missed class.
VACATION SCHEDULE:
Studio will be closed:
Nov. 22 – Nov. 27 (Thanksgiving break)
Dec. 20 – Jan. 1 (Winter break)
Feb. 21 – 25 (Presidents week)
April 4 – 8 (Spring break)
YOU CAN NOW PAY FOR CLASSES USING VENMO: @maryseyoung
YOU CAN ALSO PAY AT THE STUDIO WITH CHECK OR CASH.